Entertaining over the winter holidays is what I was born to do.
As a small child, I can remember the thrill of being allowed to help my mother set the table for Christmas dinner. She always placed a perfectly ironed cloth napkin on each dinner plate and I would set a small mandarin orange in the center for a simple, natural decoration.
Now it's a thrill to welcome young and old into my home on cold December days to catch up over winter sangria and hot spiced apple cider. From intimate dinners with friends to rowdy brunches with an army of family members, my kitchen is command central and I am the general.
These festive little stuffed mushrooms were inspired by one of my most popular recipes, a baked Brie with cranberry sauce and heaps of walnuts. I wanted to create something just as tasty that left out the bread and crackers altogether.
In order to properly enjoy a holiday party and visit with my guests, the food has to be utterly simple. I specialize in canapés that come together in a matter of minutes, like these stuffed mushrooms.
They can be assembled in advance and baked off just before the event. They may seem mighty impressive, but stuffed mushrooms really are not hard to pull off.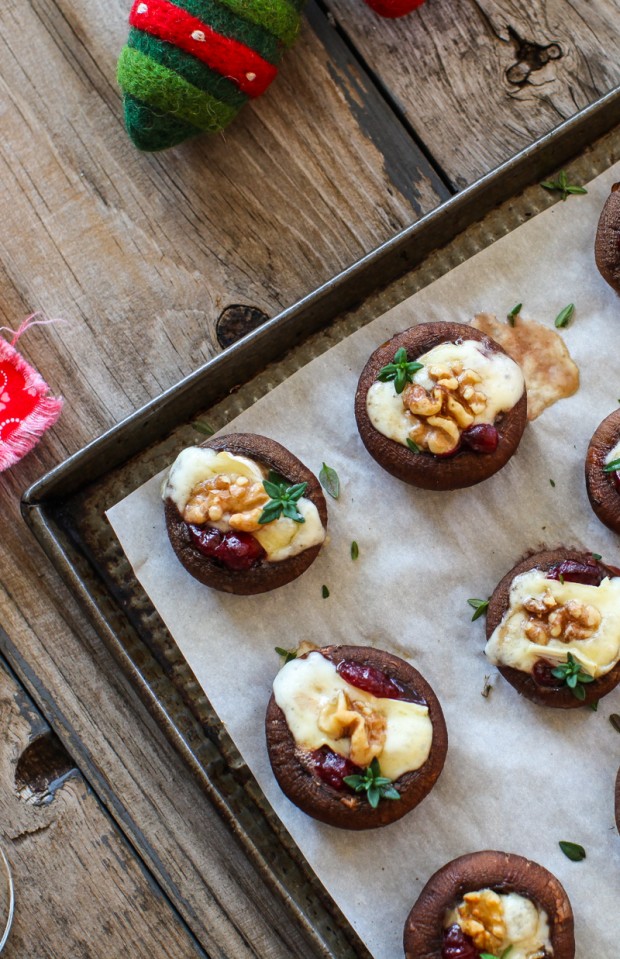 | | | |
| --- | --- | --- |
| Simple Brie & Cranberry Stuffed Mushroom Bites | | Print |
Prep time:
Cook time:
Total time:
These Brie and cranberry stuffed mushrooms are an ideal vegetarian and gluten-free option to your Christmas soirée.
Ingredients
12 mini Portobello mushrooms
2 Tablespoons extra virgin olive oil
¼ teaspoon each sea salt and black pepper
¼ cup homemade cranberry sauce
½ round of double cream Brie
12 walnut pieces
4-5 sprigs of fresh thyme
Instructions
Preheat oven to 400F. Line a baking sheet with parchment paper or foil.
Wipe mushroom caps with a damp cloth and remove the stem. This is a good job for little kitchen helpers.
Brush mushroom caps inside and out with olive oil. Place on the prepared baking sheet, stem side up, and sprinkle with salt and pepper.
Spoon a dollop of cranberry sauce into each cap. Slice Brie into bite-size pieces and tuck one into each mushroom. Top with a walnut piece and slide the pan into the oven.
Bake mushroom caps for 15-17 minutes or until the cheese is bubbly. Cool for at least 10 minutes before serving. Top with a few fresh thyme leaves and serve warm.
Cheers and have a lovely weekend!