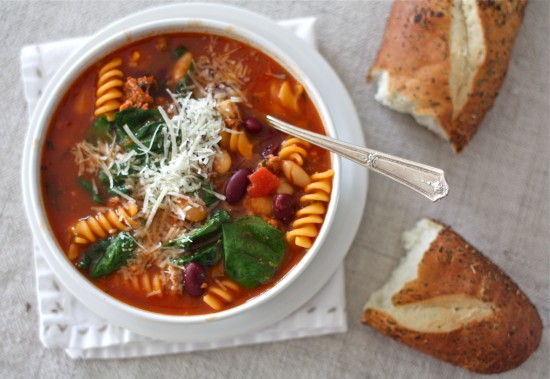 What could be better than opening the doors of your cupboard and finding everything you need for a hearty soup? Thanks to a well-stocked pantry, I recently did just that with this recipe.
Okay, I also used up some sausage links, and finished the soup with a handful of tired spinach I had on hand. The results? Our new favorite soup.
Inspired by Julie's latest cookbook, Spilling the Beans
(a recent Bite This Book! feature), this hearty winter soup features beans, pasta, protein, and greens. It comes together in under 20 minutes, just the ticket for family week-night meals.
The ingredients for this rustic soup are simple, but if you can pull it off using items like homemade chicken stock and fresh basil, and cook your own beans instead of opening a can, you will elevate it into a truly satisfying and memorable soup.
I've frozen several liters of this soup for when the baby comes. Something tells me I'm going to need sustenance in a bowl for those early days, and if it comes with spiral noodles and topped with Parmesan cheese, I'm going to be one well-fed mama.
Tips & Substitutions:
For a vegetarian version, simply skip the sausage, swap vegetable stock for the chicken stock, and proceed with the recipe as usual.
My boys aren't fans of the greens, so I dish up their bowl-fulls before I add the spinach to the pot. Other than that, they love this soup!
If you don't have the Parmesan on hand, sprinkle a little sea salt on the bowls as you serve them. The soup needs that little salty kick to enhance the spinach and pasta.
The recipe calls for fresh spinach, but a rough chop of kale or chard would make a great substitution if that is what you have on hand.
| | | |
| --- | --- | --- |
| Sausage, Bean & Pasta Soup with Spinach | | Print |
Prep time:
Cook time:
Total time:
Ingredients
Canola or olive oil
2 fresh Italian or chorizo sausage (hot or mild)
1 onion, chopped
3 garlic cloves, crushed
2 cups water
1 cup dry fusilli or other small pasta
14 oz can tomato sauce or diced tomatoes
3 cups chicken or vegetable stock
1 tsp dried oregano or basil
Salt and pepper (to taste