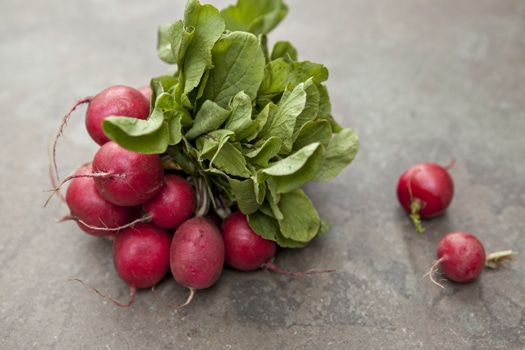 Written by Shaina of Food for My Family.
Our farmers markets here in the Midwest U.S. of A are still lacking a bit in the fresh produce selection, though I did see the first few strawberries there just this past weekend, which made me giddy like a teenager on their first date. (Note: I did not go on a single "date" in the traditional sense as a teenager.)
To clarify, there are plenty of the same things over and over: lettuces, chives, spring onions, peas, asparagus out the wazoo and radishes as far as the eye can see.
Three years ago, I was not so interested in radishes. I would eat them when they were available, but seek them out I did not. Then last year I had an awakening. My husband started showing up to our house with bunches of Easter egg radishes purchased from his on-site farmers market after work. He'd proclaim how pretty they were and talk about peanut butter and radish sandwiches as a child.
Not being one to waste, I set about using the bunches as best I knew how, first with just a bit of butter and salt.
Here are three ways I've been enjoying radishes this year. Some inspired by Martha, like the presentation of buttered radishes as an appetizer, and others inspired by grandparents and my husband's peanut butter and radish sandwiches as a child.

Photos by Shaina
Radishes with Herb Butter
| | | |
| --- | --- | --- |
| Radishes with Herb Butter | | Print |
Prep time:
Total time:
Serves/Yield:
20 radish halves
These are inspired by Martha Stewart Living in their presentation, but people have been eating radishes with good butter and sea salt for much longer than Martha's been around.
Ingredients
10 radishes
4 tablespoons butter, unsalted
1 tablespoon fresh herbs of your choice, minced
1 tablespoon sea salt
Instructions
Scrub radishes and cut in half. Pat with cloth to dry. In a small container, mix together butter and herbs. Add to small pastry bag with your choice of tip. I used a 1M tip, but you can use anything you have. Pipe butter on top of radish halves and sprinkle with sea salt.
Radish Sandwiches
Prep time:
Total time:
Whether adding them to your favorite sandwich or making up your own, radishes are a zippy addition to summer sandwiches. This one boasts a creamy feta spread.
Ingredients
2 tablespoons feta cheese
2 tablespoons tzatziki
2 slices of whole wheat bread
1/2 teaspoon sea salt
3 radishes, thinly sliced
1 whole romaine leaf
3 slices thickly sliced tomato
Instructions
Mix together feta and tzatziki. Spread on both sides of the bread. Sprinkle with sea salt. Layer on radishes, romaine, tomatoes and cover with other side of bread.
Radish and Sugar Snap Pea Salad
| | | |
| --- | --- | --- |
| Radish and Sugar Snap Pea Salad | | Print |
Prep time:
Total time:
At the market next to the radishes were huge bunches of sugar snap peas. They were just as prolific as the rhubarb and the asparagus spears, and they screamed to be eaten. Raw. As is or paired with those radishes and tossed in a light dressing, perfect for a summer side.
Ingredients
2 cups sugar snap peas, cleaned with stems removed
5-6 radishes, thinly sliced
3 tablespoons olive oil
2 tablespoons pinot grigio or white wine vinegar
1 teaspoon sea salt
1 tablespoon lemon balm
Instructions
Toss together peas and sliced radishes. Add olive oil, vinegar, sea salt and toss to combine. Chiffonade lemon balm and sprinkle on top. Allow to marinate for at least 10 minutes before serving.
Are there some fruits or vegetables you avoid buying simply because you're not confident of what to do with them or weren't raised on them?