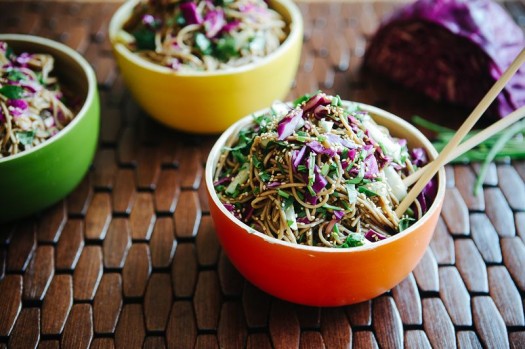 Written by Allison of Some the Wiser. Welcome, Allison!

There are a lot of reasons to skip restaurant meals and eat at home.  Cooking your own meals at home is a great way to save money, eat healthy, and create memories in the kitchen.  As a single parent with small children, I don't make it out to a restaurant more than a few times a year.
While I love the simplicity of eating at home and making meals from scratch, sometimes I crave the delicious ethnic flavors that my favorite local restaurants do so well.  With a little practice, I've been able to satisfy my cravings with a few simple tricks in the kitchen.
For me, the most difficult flavors to recreate at home have been those found in Asian cooking.  I can do Mexican/Southwestern style food with ease, and I am pretty good at recreating Italian pasta dishes.  Asian food, however, has been a little trickier to master.
I finally had a breakthrough with Asian cooking at home when I realized that there are a few simple ingredients that add all of the flavor that I missed from my favorite restaurants.
7 ingredients to stock for quick, Asian-inspired dishes
The following ingredients are commonly found in Asian dishes, and when you have them on hand you can create any number of delicious dishes:
Toasted Sesame Oil – A vegetable oil made from sesame seeds.  It is rich in both color and flavor and also full of healthy antioxidants.
Tamari – A naturally brewed soy sauce made from soybeans, water, and sea salt.  It is far superior to alternative types of soy sauce.
Balsamic Vinegar – A red wine vinegar with a sweet flavor.
Maple Syrup – Real maple syrup, made from the boiled sap of sugar maple trees, is a natural and flavorful sweetener.
Tahini – A creamy paste made by crushing hulled sesame seeds.  It has a distinct, toasted flavor.
Brown Rice Vinegar – A very mild vinegar made from fermented brown rice.
Miso – A salty paste made from aged soybeans.  Perfect for dips and spreads.
There are, of course, many more ingredients that could be added to this list, but if you have these few staples in the pantry, you will be able to create an incredible Asian meal at home.
Photo by Allison
This Asian Noodle Salad, with a simple dressing, is full of flavor and takes only 20 minutes to prepare.  It is a favorite lunch or light dinner at our house, and one that always impresses company!
It's healthy, you won't find any MSG in it like you might at your favorite Chinese food joint, and it always satisfies my Asian food cravings.  Enjoy!

Prep time:
Cook time:
Total time:
This Asian Noodle Salad, with a simple dressing, is full of flavor and takes only 20 minutes to prepare.
Ingredients
1 (12 oz) package soba noodles
1/3 cup toasted sesame seeds
1/3 cup chopped cilantro
2 cups chopped red cabbage
¼ cup chopped chives
1 cup diced cucumber
3 tablespoons toasted sesame oil
4 tablespoons tamari
4 tablespoons balsamic vinegar
3 tablespoons maple syrup
Instructions
Cook soba noodles according to package instructions.
Drain and cool well. Place in a large bowl.
Combine dressing ingredients in a small bowl and whisk well to combine.
Pour dressing over noodles and toss gently with sesame seeds, chives, cucumbers, and cabbage.
Can be served immediately, or chilled until ready to eat.