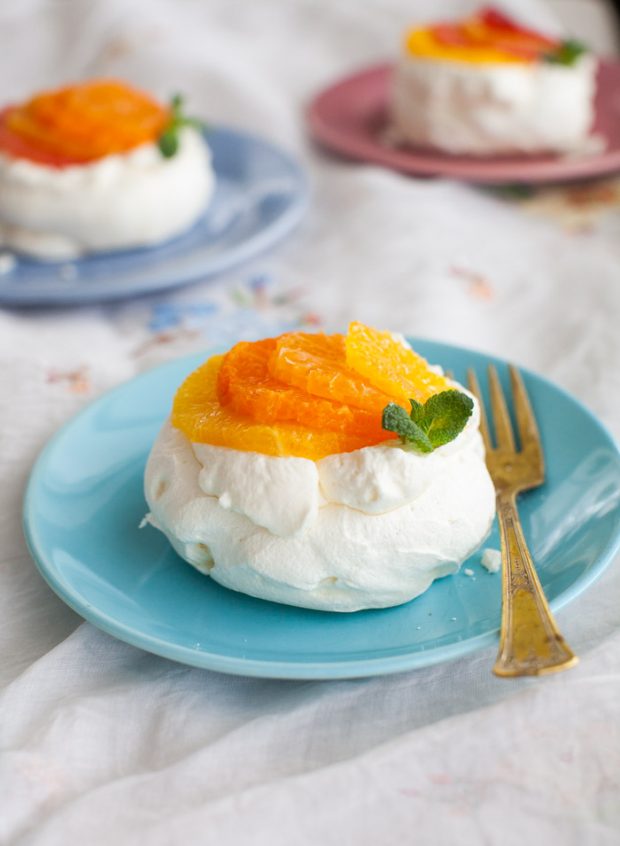 Author: Aimee
Prep time: 25 mins
Cook time: 1 hour 15 mins
Total time: 1 hour 40 mins
Adapted from Simply Citrus. You will need to prepare the mini meringue bases several hours or the night before serving so they have time to dry. Once assembled, the pavlovas are best enjoyed at once.
3 large egg whites, room temperature
2 teaspoons cornstarch
1 teaspoon freshly squeezed, strained lemon juice
1 1/4 teaspoons vanilla extract, divided
3/4 cup granulated sugar
1 medium pink grapefruit
1 medium orange
2-3 clementines or mandarines
1 tablespoon liquid honey
1 1/4 cups whipping cream
4 teaspoons powdered sugar
mint, to garnish
Preheat oven to 250F. Line a rimmed baking sheet with parchment paper.
Place the egg whites in a clean, dry bowl of a stand mixer. Using the whisk attachment, beat the whites on medium high until stiff peaks form. Meanwhile, stir together the cornstarch, lemon juice and 1 teaspoon vanilla in a small bowl.
With the mixer running, slowly pour the sugar into the whipped whites, a few teaspoons at a time. Whisk until the meringue is glossy and holds stiff peaks. Whisk in the cornstarch mixture until fully incorporated.
Scoop the meringue into 7 mounds on the parchment paper. I use a large ice cream scoop for this. Round the edges slightly with a spatula and use the back of a spoon to press a small crater into the centre.
Place on the middle rack of the oven and bake for about 1 hour and 15 minutes. Meringues should be crispy on the edges and bottom. Turn off the oven and let them cool completely. Store in an airtight container until ready to use.
Slice the ends off of of the citrus, and remove the rind with a knife. Slice into thin rounds and transfer to a bowl. Toss gently with the honey and let stand while you whip the cream.
In the bowl of a stand mixer fitted with the whisk, beat cream with remaining 1/4 teaspoon of vanilla until stiff peaks form. Slowly whisk in the powdered sugar.
To serve: place the mini meringues on a serving platter. Divide the whipped cream among the craters. Top with sliced citrus fruits, and drizzle a little of the accumulated juices over the fruit. Garnish with a sprig of mint, if desired, and serve at once.
I use artificial clear vanilla extract for both my pavlovas and whipped cream to help them stay as white as possible.
This dessert can also be made as one large pavlova. Bake for 1h and 30 minutes.
Recipe by
Simple Bites
at http://www.simplebites.net/mini-citrus-pavlovas/