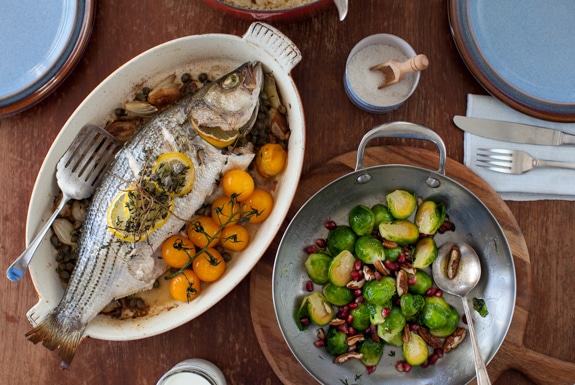 Herb-Roasted Striped Bass with Lemon, Capers & Shallots
Author: Aimee
Prep time: 10 mins
Cook time: 25 mins
Total time: 35 mins
Simple to dress and quick to roast, this tender fish dish will win your family and guests over with its pairing of caramelized shallots and pungent capers.
1 Striped Bass, dressed (meaning viscera, gills, fins & scales are removed)
1/4 cup extra virgin olive oil
1/2 teaspoon salt
4 sprigs fresh thyme
1 lemon, sliced
6 shallots, peeled and halved
3 Tablespoons capers
8 inches kitchen twine
(optional) 1 branch cherry tomatoes
Preheat oven to 375F.
Pat bass dry with paper towels and rub inside and out with 2 Tablespoons olive oil. Sprinkle with salt inside and out and tuck into the body cavity 2 sprigs of thyme and 2 lemon slices.
Place bass in an oiled oven-to-table dish and top with a few more slices of lemon and 2 sprigs of thyme. Wrap kitchen twine around the belly of the fish and tie loosely, securing the lemon and herbs.
Sprinkle the shallots around the fish and place in the preheated oven. Roast for 15 minutes.
Add cherry tomatoes to the baking pan, and sprinkle capers all over and around the roasting bass. Drizzle with a little more olive oil. Bake for another 10 minutes.
Remove from oven, drizzled with a little more olive oil and a serve with a few wedges of lemon.
To serve: remove twine and peel back top layer of skin. With a fork or flexible spatula, lift of the flesh from the bones along the entire length of the fish. Then, lift the tail and the backbone will come right out of the pan. Set it aside and serve the second side of flesh below it. Always check children's food carefully for bones.
Recipe by
Simple Bites
at http://www.simplebites.net/bringing-back-sunday-dinner-new-series-herb-roasted-striped-bass/